Yorkshire cricket racism scandal echoes the treatment of former AFL player Heritier Lumumba at Collingwood Magpies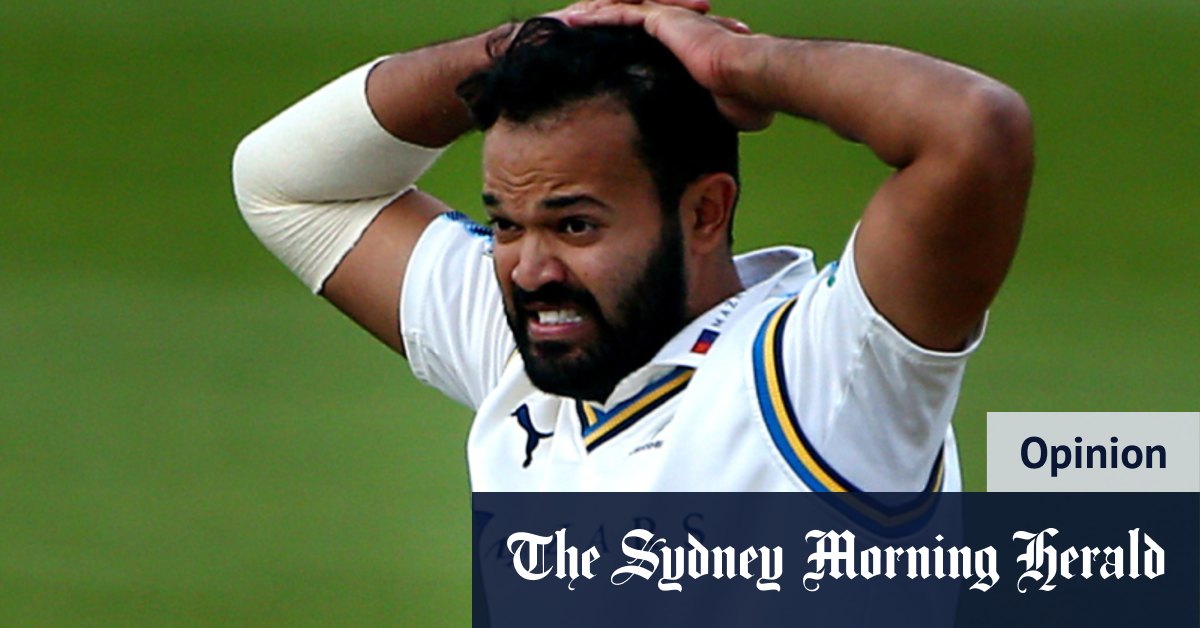 Loading
Around the same time, Azeem Rafiq, a Pakistan-born veteran and former England Under-19 captain, was a regular at Yorkshire. The year before, he became the youngest man and the first Asian to captain the venerable Old County Club. Also at the same time, a young fast bowler called Ollie Robinson was trying to establish himself in Yorkshire.
Last year Rafiq accused Yorkshire of institutionalized racism while he was there. He gave examples. A teammate – now identified as former England player Gary Ballance – warned others not to speak to the 'P-i', repeatedly asked if the bearded men on the street were his uncles and a corner store was his family business. At least once Rafiq has said he was in tears.
An independent investigation confirmed most of Rafiq's allegations, but in August this year Yorkshire dismissed them, coming to the laughable conclusion that he could not have been offended. It was all "friendly banter", the great fig leaf of our time. There would be no sanctions.
Surprisingly, he found that if disciplinary action was due, he was versus Rafiq, for speaking to the same teammate as "Zimbo from Zimbabwe". The offensive term used by Ballance has such racial connotations that English reports do not state it. "Zimbo" is about as racist as "Aussie".
Robinson has long been gone from Yorkshire, but as he was making his test debut at Lord's this year, vile racist and sexist tweets sent during his time there emerged. It cost him a game suspension.
So it's not hard to imagine this Yorkshire locker room 10 years ago. The racial taunts would have been cast in such a way as to ask: surely you wouldn't want to this? Rafiq, aware of being alone in a crowd, would have responded in the same way. He might have even laughed, just to be sure.
This is the occasional racism that Lumumba was referring to. It's a joke, isn't it, larrikinism. P – i, curry eater, chimpanzee: can't you take a joke? Look: we are all laughing. And Rafiq "took" the joke. He had a good laugh outside. Halfway around the world, in the locker room at Collingwood, Lumumba laughed. Everything was so comfortable relaxed. In fact, it is institutional racism, so ingrained that no one can see it.
Everything fell apart for Yorkshire last week. Sponsors have taken the outings by storm. ECB banned them from hosting major cricket matches and announced a review of how the club is run. Safe to say at least he will have to Do better. Rafiq has been summoned to testify before a parliamentary committee, where what he says will be a matter of parliamentary privilege. That should make you laugh, right?
The final say can safely be left to his colleague David Hopps, a proud Yorkshireman (is there another?), A longtime beat man but not a supporter.
"Such a lack of cultural leadership in Yorkshire," he tweeted, "that this kind of racing" joke "was not outlawed the first time it happened and that everyone who represents Yorkshire from U11 knows it. And that includes players from overseas.
"It's breathtakingly incompetent."
Sports news, results and expert comments. Subscribe to our Sport newsletter.