Why Maria Thattil called a group chat on Instagram.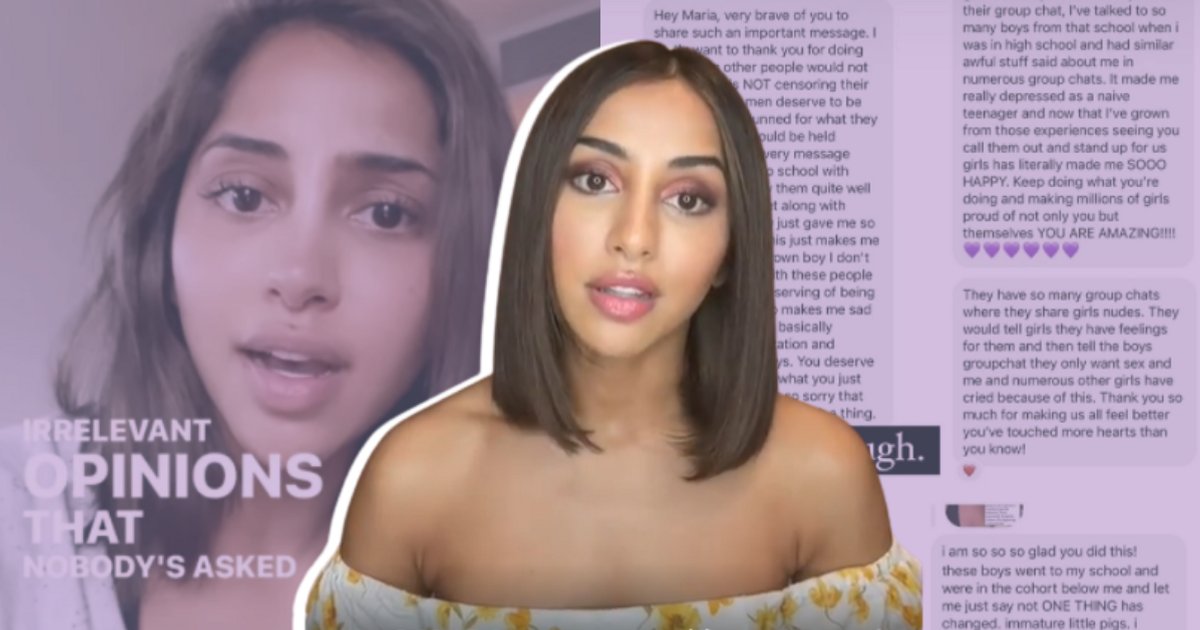 So what's the plan? Maria has defined the action that must take place.
"It starts with a group discussion, but these group discussions focus on a range of behaviors and attitudes that create a climate of discrimination, inequity, limited opportunity and violence against women.
"It will take conversations that take place in all areas – in homes, in classrooms, in workplaces – where no one is silenced or gasped for talking about their lived experiences.
"We need a culture of non-tolerance.
"You have to question the social hierarchy in those spheres that create a sense of entitlement, allowing men to perpetuate this behavior. Being popular or 'cool' in schools or 'powerful' in organizations should not be tantamount to letting go. -pass when held responsible.
"There is a need to challenge the toxic ideals of masculinity and re-educate men about what it is to be a man in accordance with the values ​​of emotional intelligence, empathy, respect and equality.
"It takes empathy from our leaders to prioritize safety and respect for women."
Listen to this episode of Mamamia Out Loud, where Mia, Holly and Jessie discuss the mood swings among Australia's political leaders. Posting continues after the podcast.
"We need to shift the attention of women in our language and perceptions and realign it with the men who perpetuate this behavior – changing headlines like 'Woman Rape' to 'Man Rape Victim'.
"There needs to be real action to empower people and invest in education when people think and act sexist or misogynist.
"It must be remembered that women deserve respect, safety and dignity, not only because of their relationship with men (" she is someone's daughter, woman, sister, etc. ") but because that she is just SOMEONE.
"It takes such a deafening silence that you can hear a fly fly, when those remarks are made and quickly backed up by 'we were kidding.' This drop should be followed by the voices of women and allies who will cut off a nefarious dialogue.
"You have to understand the link between the lack of respect for women in the shadows and the fact that an Australian woman is murdered weekly at the hands of a current or former partner.
"We have to call group discussions, so people can change – because the boys in the group discussion become the men in our boardrooms, the politicians running our societies, the leaders of our communities, the managers of our communities. companies, fathers raising children.
"Women are tired of talking to everyone and being heard only by other women who share their fear and frustration.
"It takes a lot, and it takes everyone."
Characteristic picture: [email protected]/ Mama Mia.