Latest Russian-Ukrainian war: Counterattack leaves Russian troops 'highly vulnerable' in Kherson, UK reports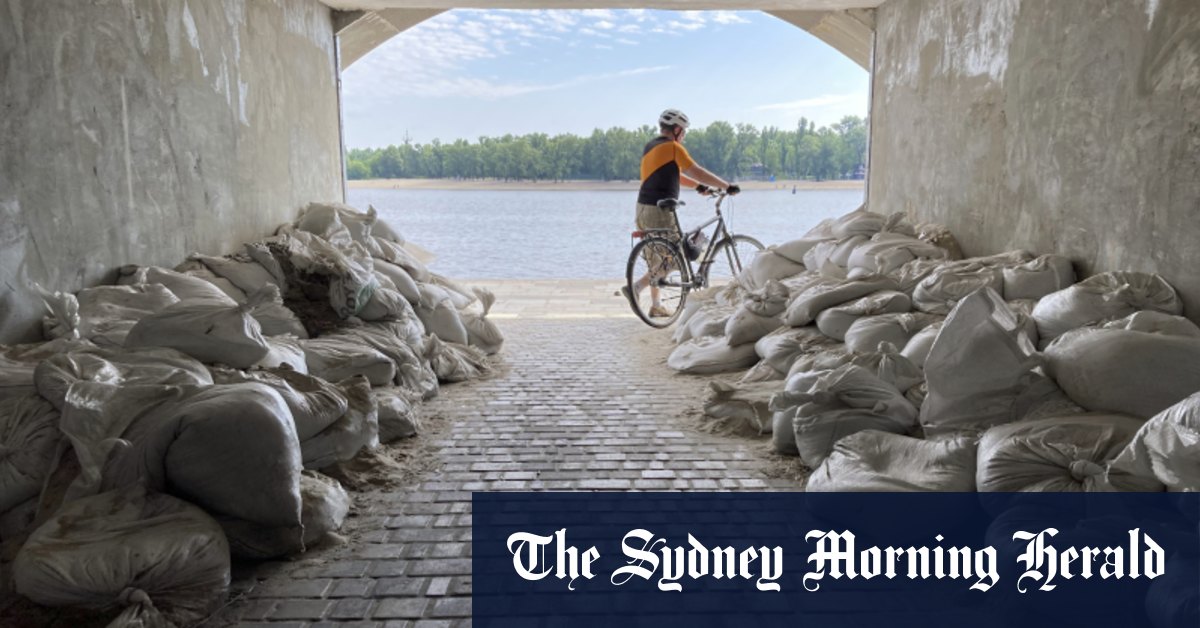 "We are doing everything so that the occupying forces have no logistical opportunity in our country," he said in an address Wednesday evening (Thursday AEST).
Russian officials had earlier said they would instead look to pontoon bridges and ferries to get forces across the river.
Russian-backed forces said on Wednesday they had captured the Soviet-era coal-fired power plant in Vuhlehirsk, Ukraine's second-largest, in what was Moscow's first significant gain in more than three weeks. .
Unverified footage posted on social media appeared to show fighters from Russia's private military company Wagner posing outside the power plant, which some Russian state media – citing Russian-backed officials – reported had been stormed .
One of the Wagner fighters in front of the factory showed the camera his watch – the time indicated was 10:01 local time and gave the date of July 26.
Reuters could not immediately verify the video or whether the plant had come under Russian control.
Loading
Russia has invaded Ukraine in what Moscow calls a "special military operation" to demilitarize and "denazify" its neighbor. Ukraine and its allies call the invasion a war of unprovoked aggression.
US Secretary of State Antony Blinken said he was planning a phone conversation with Russian Foreign Minister Sergey Lavrov – the first between the two diplomats since before the war started.
The call in the next few days would not be "a negotiation over Ukraine," Blinken told a news conference, reaffirming Washington's position that any discussion about ending the war must take place between Kyiv and Moscow.
Russia has received no official request from Washington regarding a phone call between Blinken and Lavrov, the TASS news agency reported.
The US has made "a substantial offer" to Russia to release US citizens WNBA star Brittney Griner and former US Marine Paul Whelan, Blinken said, without giving details of what the United States offered in return.
Blinken said he would pressure Lavrov to take up the offer.
A source close to the situation confirmed a CNN report that Washington was willing to trade Russian arms dealer Viktor Bout, who is serving a 25-year prison sentence in the United States, as part of a deal.
In addition to discussing Americans detained by Russia, Blinken said he would discuss with Lavrov the tentative agreement on grain exports reached last week between Russia, the United States, Turkey and Ukraine. .
Russia cut gas flows to Europe on Wednesday in a further escalation of an energy standoff with the European Union that will make it harder and more expensive for the bloc to fill storage ahead of the winter heating season.
Loading
The supply cut, reported by Gazprom earlier this week, reduced the capacity of the Nord Stream 1 pipeline – the main route to Europe for Russian gas – to just a fifth.
While Moscow blamed the delayed return of a serviced turbine and sanctions for supply cuts, Brussels accused Russia of using the energy as a weapon to blackmail the bloc and retaliate against Western sanctions over its invasion of Ukraine.
Russia has blocked grain exports from Ukraine since its invasion, but agreed last week to allow deliveries through the Black Sea to Turkey's Bosphorus Strait and to world markets.
The deal was almost immediately thrown into doubt when Russia fired cruise missiles at Odessa, Ukraine's biggest port, on Saturday, just 12 hours after the deal was signed.
Prior to the invasion and subsequent sanctions, Russia and Ukraine accounted for almost a third of global wheat exports.
Reuters