Imran Khan's downfall is a victory for Pakistan's generals, not his democracy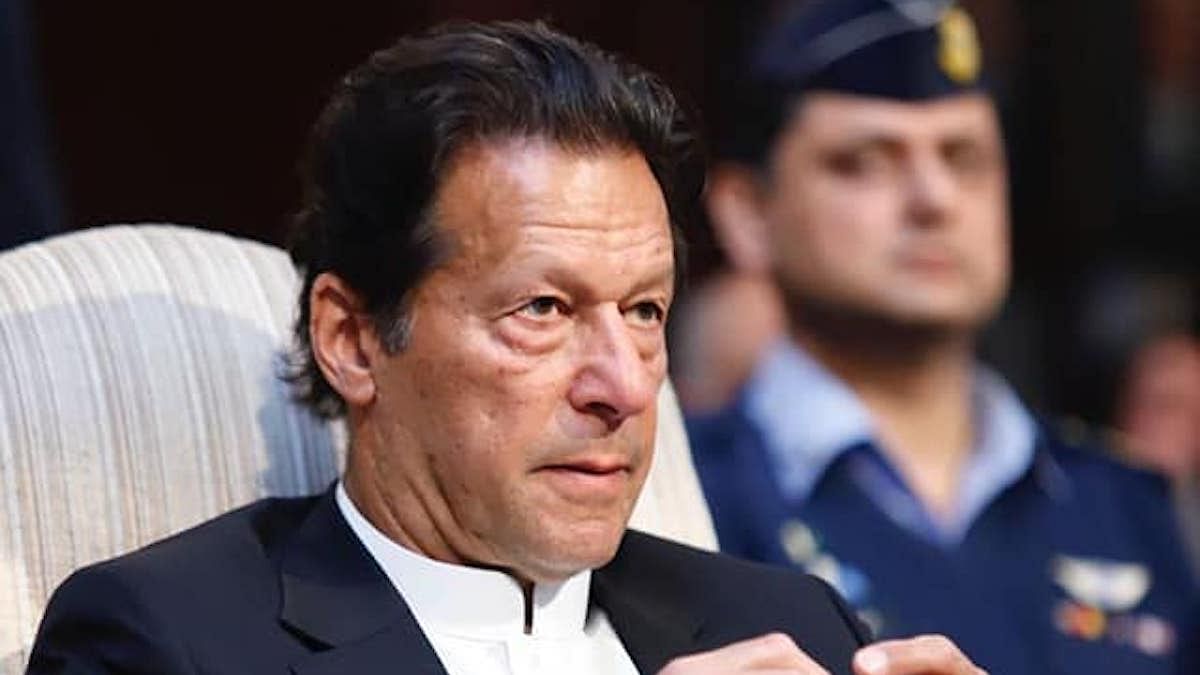 FFrom the head of the table, distinguished foreign visitors as his dinner guests, Prime Minister Zulfikar Ali Bhutto shouted to his Chief of Staff, Lieutenant General Muhammad Zia-ul-Haq: "Come here, Monkey ! Prime Minister, Bhutto's biographer Stanley Wolpert checked in, would pretend to pull Zia on an invisible string, like you would with a puppet. The cracks about his generals never stopped: their appearance, their intelligence, the promiscuity of their wives.
Zia unfailingly responded to the insults with a cordial beam and a creeping bow, thanking the prime minister for his "kind regards, sir!" Then, in the summer of 1977, the general ordered his soldiers to chase the prime minister from his home, on a trip that would end in the gallows.
Later this week, when Prime Minister Imran Khan faces a vote of no confidence that few give him a chance to win, it will likely be seen as a triumph for Pakistani democracy. In 2018, Khan was installed in office in a election marked by the intimidation of its opponents, the abuse of criminal justice and outright rigging. Khan is ruinous mismanagement of the country, the argument goes, made his position untenable, even for his bosses.
That's not the story, though: the generals' ability to drive their chosen monkey off the throne and replace it with a new pet shows that the power of the Pakistani military has not diminished.
---
Read also : Pakistan Army Can't Risk Controversy With Nawaz Sharif Sacrificing Imran Khan Easier
---
At war with the Generals
Last year, Imran Khan began a protracted and misguided battle with army chief General Qamar Javed Bajwa, refusing to sign a replacement for Inter-Services Intelligence (ISI) director general Faiz Hameed , by Lieutenant General Nadeem. Anjum. Lt. Gen. Hameed is believed to have been instrumental in securing Khan's election in 2018. The Prime Minister was briefed by, among others, his occultist wife Bushra Khan, that the loss of Faiz would hasten his own downfall.
Imran Khan's decision to spurn Bajwa – and secure General Hameed's appointment as army chief in November, when the top post will fall vacant – crossed a fundamental red line. The removal of prime ministers who sought to intervene in the military sphere has been a leitmotif in post-Zia Pakistani politics.
The man Imran Khan replaced as prime minister – and whose brother has now replaced him – has been at the center of the story.
Elected in 1990 – in a contest allegedly rigged by the ISI – Nawaz Sharif was seen as a reliable proxy by the Pakistani military establishment. Like Imran Khan, his politics centered on populist Islamism. He associated with Punjabi jihadist groups. Among other things, Sharif promised to make Pakistan's legal system Sharia-compliant, and propose the Islamization of educational and economic systems.
Sharif's not-so-subtle efforts to buy influence within the military – which included handing out high-end cars to top generals – did not go down well with the then army chief , General Asif Nawaz.
"The army chief confronted Nawaz, who did not deny the allegation," said former Indian intelligence officer Rana Banerjee. checked in. Instead, "He offered the keys to a new BMW to Asif Nawaz, urging him not to continue driving his old Toyota Corona as it did not suit the chief!"
Sharif and Gen. Nawaz clashed over the appointment of Lt. Gen. Javed Nasir, a member of the proselytizing order Tablighi Jamaat, as ISI's director general, without even consulting the army chief.
And General Nawaz's efforts to transfer Islamist-leaning Lieutenant General Hamid Gul, who as ISI leader had assured The election of Prime Minister Sharif has also caused friction. The army chief did not trust Gul to hold the charge in his absence and wanted him in a non-commander position, where his ambitions would be contained. Eventually, Gul was retired, despite Sharif's fierce objections.
Then, in 1993, General Abdul Waheed Kakar was appointed Chief of Army, replacing Lieutenant Generals Rehm-Dil Bhatti, Mohammad Ashraf, Farrakh Khan and Arif Bangash. Nawaz Sharif resisted this and ended up losing his job when the army forced him to resign.
---
Read also : Gen Bajwa can bet on Pakistan's divided politics. Imran Khan's challenge will lead nowhere
---
New skirmishes in a "hybrid democracy"
After the re-election of Nawaz Sharif in 1997, new skirmishes broke out with the generals. Hoping to strengthen his influence, Sharif appointed Lt. Gen. Khwaja Ziauddin Butt as ISI's director general. The head of the army, General Jehangir Karamat, was furious at this decision, taken without his consent. Karamat then publicly criticized excessive government spending and demanded the creation of a National Security Council to institutionalize military involvement in decision-making.
In 1998, Cherif fired Karamat, and chose Lieutenant General Pervez Musharraf to succeed him, replacing Lieutenant Generals Ali Kuli Khan and Khalid Nawaz Khan. After the Kargil War, Sharif decided to sack Musharraf, who had gone to war without informing his prime minister. The general staged a successful coup.
The Pakistan People's Party (PPP) government, which ruled from 2008 to 2013, has also pushed back against military influence over strategic decisions – seeking help from the United States, by a Account, to establish a new national security system led by civilians. The government survived, but its legitimacy was disassembled by the military.
Following the death of Zia in a still unexplained 1988 air crash – blamed on KGB, Mossad, CIA, hydraulic failures, nerve gas and explosives packed inside crates of mangoes – the generals instituted a system that the diplomat Husain Haqqani describe as "military rule by other means". The head of the army, the scholar Hasan-Askari Rizvi has Explain, became the pivot of this political system. It represented the army's institutional consensus on the governance of the country, which emerged from discussions among corps commanders.
"German history reached its turning point but failed to turn," said historian AJP Taylor. wrote revolutions of 1848-49. The praetorian system in Pakistan ensured that politicians who fought against so-called "hybrid democracy" would suffer the same fate.
---
Read also : Many criticize me for not relying on the Modi-Sharif meeting. I did what was in the best interests of Pakistan
---
New chef, just like the old ones
India's leaders have learned, usually the hard way, that the military makes the decisions in Pakistan, not its prime ministers. Prime Minister Asif Ali Zardari, elected in 2008, research a historic transformation with his country's eastern neighbor, saying that "India has never been a threat to Pakistan". Around the same time, as we now know, the Lashkar-e-Taiba was finalizing its plans for 11/26. Zardari sought to bring the perpetrators to justice and assert civilian control over the ISI, but failed.
Nawaz Sharif, likewise, promised to "ensure that Pakistani soil is not used for such [terrorist] designs against India. His efforts to contain terrorist groups and engage with Prime Minister Narendra Modi were foiled by the Pakistani military.
Since the Pulwama crisis in 2019, however, General Bajwa has curbed terrorism, leading to a significant drop in terrorism in Kashmir. Emissaries of Pakistan's army chief and Indian national security adviser Ajit Doval are said to have been conducting behind-the-scenes negotiations to prevent the two countries from sliding into a conflict they don't want.
Although it is possible that General Bajwa will obtain an extension of the mandate of the new Pakistani Prime Minister, it is not known how sustainable his Indian policy will be. General Musharraf had almost sealed a peace agreement with then Indian Prime Minister Manmohan Singh. Fears that the deal could turn Pakistani jihadists against the country's military, however, led to the collapse of the peace dialogue.
General Pervez Ashfaq Kayani pushed a very different view from his predecessor, saying the Pakistani military was an "India-centric institution". He insisted this "reality will not change significantly until the Kashmir issue and water conflicts are resolved".
The position of the Pakistani military as the country's preeminent institution of power rests on its status as the guardian not only of the country's borders, but also of its ideological boundaries. Since independence, the military has presented itself as the guardian of Pakistan's freedom, identity and Islam. To allow politics and politicians to usurp this role would threaten the very important economic position of the generals. privileges.
In the unflattering mirror held up to us by history, the new Pakistani Prime Minister will be almost indistinguishable from the old one.
Praveen Swami is National Security Editor, ThePrint. He tweets @praveenswami. Views are personal.
(Edited by Prashant)