Geoffrey Miller: How should New Zealand react to the Ukrainian-Russian crisis?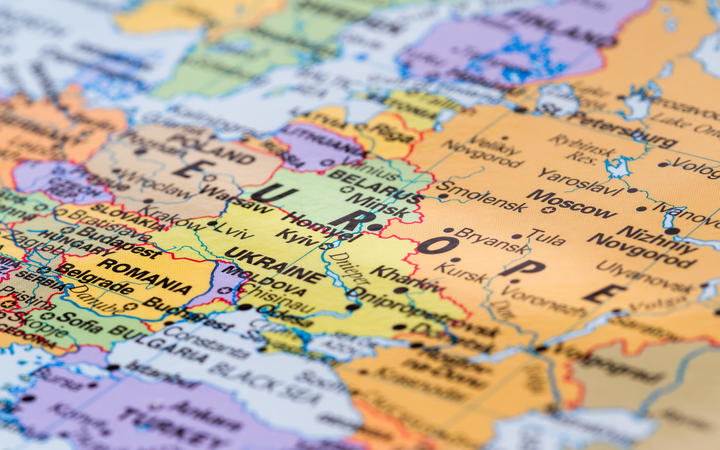 By Geoffrey Miller*
Opinion – New Zealand's initial response to a possible Russian invasion of Ukraine is becoming clearer.
Russia has positioned around 100,000 troops stationed near Ukraine's borders and the United States says Russia now has the capability to invade if it chooses. Russia denies having such plans.
New Zealand Foreign Minister Nanaia Mahuta issued a written statement to the media last week in which she said "we call on Russia to act in a manner consistent with international law and take immediate action to reduce the tensions and the risk of a serious miscalculation".
The statement added that New Zealand "strongly supports international efforts to resolve the crisis through diplomatic channels".
For her part, Prime Minister Jacinda Ardern said in response to a question at her post-Cabinet press conference last week that New Zealand was "deeply concerned" and recognized the need to "further strengthen the sovereignty of the 'Ukraine".
Why should the crisis be about Wellington – some 17,000 km from Kiev and Moscow?
One of the reasons is that Russia is, like New Zealand, a member of APEC. A power in Asia and the Pacific as well as in Europe, Russia is in New Zealand's orbit: Vladivostok is only a two-hour flight from South Korea, one of the closest trading partners. from New Zealand.
Indeed, Russia is looking more and more to the East – thanks in part to the impact of climate change.
Melting Arctic ice means the "Northern Sea Route" along the Russian coast is slowly emerging as a lucrative new sea route for travel from Europe to Asia and a much faster alternative to the Suez Canal. As the route becomes more viable, development is expected to accelerate in the Russian Far East.
Moscow also has an increasingly close relationship with Beijing, in part due to its isolation from the West since Russia's illegal annexation of Crimea in 2014. China and Russia plan joint military exercises and during of a recent video call, Xi Jinping addressed Vladimir. Putin as his "old friend", while Putin described Russian-Sino relations as being at an "all time high".
Indeed, relations between China and Russia are so good that the United States last week called on Beijing to use its influence to try to convince Moscow to defuse the Ukraine crisis.
NATO allies, particularly the United States and the United Kingdom, have been unusually frank and forthright about the prospects of Russia starting a war against Ukraine. A steady stream of intelligence was released throughout January to support the idea that Russia is planning an invasion.
For example, on Saturday Reuters reported claims by US officials that Russia was transporting blood supplies to treat potential war casualties to the border. Earlier, on January 14, the United States said it believed Russia was planning a 'false flag' operation to create a pretext for war, which was followed by a British statement on January 23 that Russia planned to install a puppet government in Ukraine.
These claims should be taken seriously, but raw intelligence should also be viewed with a healthy degree of skepticism. This year marks the 20th anniversary of the publication of the infamous September 2002 UK Government dossier which helped to substantiate Tony Blair's case for war on Iraq. The dossier's central claims about Iraq's possession of weapons of mass destruction were later discredited or found to be false.
Indeed, even Ukraine's own president seems to doubt that the current situation is really as dire as the US and NATO claim. A phone call between Volodymyr Zelensky and Joe Biden last week 'did not go well', with Zelensky later telling reporters 'we don't need this panic…I don't consider the situation any more tense than 'before".
Given the conflicting reports, the fog of war may already be descending. In truth, it is impossible for anyone to know exactly what Putin has in mind in the days and weeks ahead. The risk of war is real.
Is there anything New Zealand could do to help defuse the current crisis?
The main tool used by the United States and its NATO allies to prevent a war has been the threat of crippling and sweeping sanctions against Russia if it attempts an invasion. As Robert Ayson has noted, New Zealand's current lack of a formal stand-alone sanctions regime means it would not be able to do the same except with certain lower-level measures such as travel bans. . On the other hand, one wonders whether Russia would pay much attention to the sanctions imposed by New Zealand anyway.
Arguably a more useful role for New Zealand to play would be in the diplomatic space. One of the few positive aspects of the current crisis is that Russia and NATO have continued to keep the lines of communication open. Russian Foreign Minister Sergei Lavrov and US Secretary of State Antony Blinken met in person in Geneva on January 21. The meeting followed lower-level talks earlier in January and two phone calls between Biden and Putin in December.
One problem, however, is that aside from Switzerland, which provided the venue for the talks in Geneva, there is a distinct lack of third parties who can speak credibly to both sides. While the Nordic countries – especially Norway – often act as intermediaries in conflicts in the Middle East, the Ukrainian crisis is too close to home. Norway and Iceland are founding members of NATO, while Sweden and Finland are currently discussing membership. NATO enlargement is one of Putin's main complaints.
New Zealand may also seem unsuited to such a brokerage role. After all, Wellington is under pressure from its Five Eyes partners – particularly the new Aukus grouping – to take a more hawkish stance towards Moscow and Beijing. Indeed, New Zealand's latest defense assessment, published in December 2021, devoted a section to Russia which concluded that it "undermines the rules-based international system and frustrates collective action on a range of issues. important".
In addition, New Zealand public opinion towards Russia is becoming increasingly negative: 42% of respondents cited Russia as a threat to New Zealand in the latest "Perceptions of Asia" by the Asia New Zealand Foundation, published in June 2021, an increase from 34% annually. year earlier. This put Russia in second place, behind North Korea and seven percentage points ahead of China.
Yet as a small state that still enjoys the best relations with China of any Western country, New Zealand has also shown that it has a different worldview than its traditional partners. Innovative ideas for New Zealand's approach to China that were pioneered last year by New Zealand academics Nicholas Ross Smith and Reuben Steff could be explored further and potentially applied to Russia as well. Smith put forward the idea that New Zealand was leading a new 'non-aligned' movement, while Steff suggested that New Zealand could play a 'breaker role' and provide a venue for 'great power' talks. – perhaps complementing the role already played. by neutral Switzerland.
In this regard, Vladimir Putin's existing ties to New Zealand could be an asset: it was reported last year that he spent time in the country in the 1980s when he was a KGB agent. Putin also made one of his first foreign visits as prime minister to New Zealand for the APEC summit in 1999 – and he was quick to accept an invitation to attend a summit APEC Virtual Special on Covid-19 which was hosted by Jacinda Ardern last July.
Any role undertaken by New Zealand to defuse tensions would have to be heavily improvised for the current crisis. It should also almost certainly be undertaken virtually, given New Zealand's travel restrictions due to Covid-19.
But the differences between Russia, China and the West are not going to disappear any time soon. There will almost certainly be future crises to manage.
In the longer term, capacity should be built. New Zealand now has a fair number of Chinese-speaking diplomats, but Russian skills that were common during the Cold War are now rare. Existing Russian programs at the University of Canterbury and the University of Auckland would be a useful starting point.
No, none of this is easy or straightforward – but diplomacy rarely is.
It might be worth a try.
*Geoffrey Miller is of the Democracy Project international analyst and writer on current New Zealand foreign policy and related geopolitical issues. He has lived in Germany and the Middle East and is learning Arabic and Russian.