G7 Leaders' Summit must bring kleptocracy to…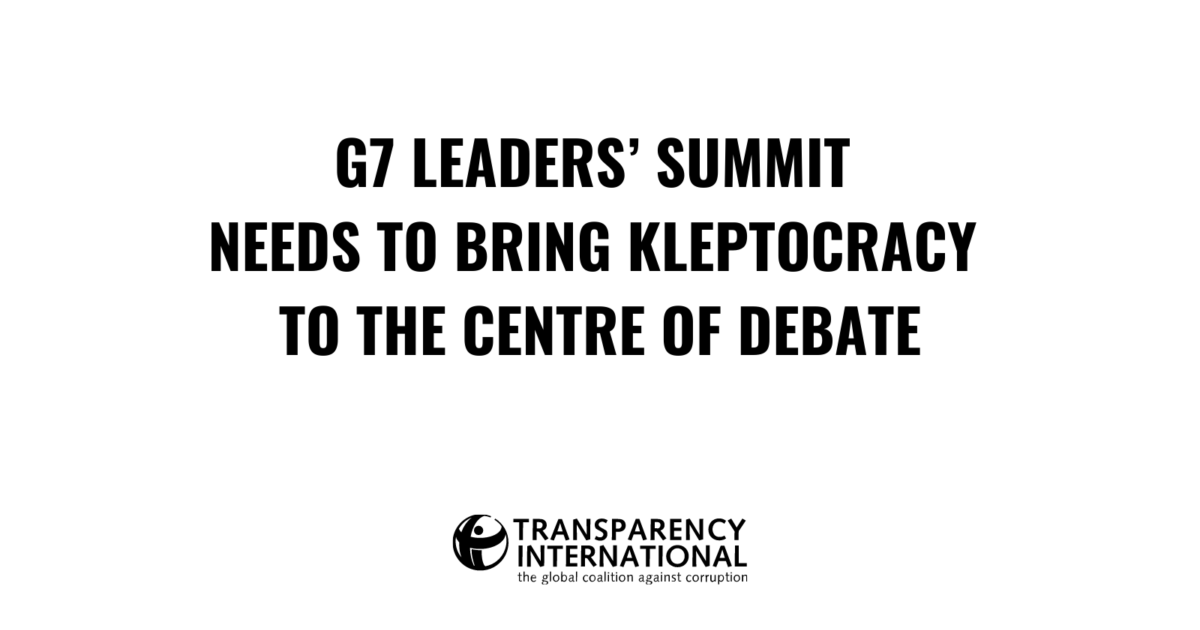 From June 26-28, the Group of Seven (G7) will meet for the Leaders' Summit to discuss how they can work together to address some of the world's most pressing challenges.
In preparation for the Summit, Transparency International published a stand outlining the most important actions for G7 leaders to stop the flow of dirty money that fuels kleptocracy around the world.
Maíra Martini, corrupt money flow expert at Transparency International, said:
"For too long, professional facilitators, banks, corporations, and the real estate and luxury sectors in G7 countries have provided a safe haven for shady actors and their illicit wealth. After Russia invaded Ukraine, the G7 made big promises to go after the kleptocrats and their money. But when we looked at the current state of things, we found underfunded authorities and a lot of secrecy. This makes finding assets an uphill battle – whether to implement Russian-Ukrainian sanctions or in investigations to hold kleptocrats accountable. Perhaps because of these challenges, most governments have also been tight-lipped about their progress in finding suspicious assets.
"We are disheartened that this year's G7 Presidency program fails to mention corruption or the disastrous impact that the unchecked flow of dirty money is having on so many G7 priorities. Transparency International calls on all G7 leaders to keep their own promises and use the opportunity of the Summit to spell out exactly how they will deny sanctuary to corrupt actors and their spoils.
Anna-Maija Mertens, Executive Director of Transparency International Germany, said:
"Democracy is under pressure around the world, as authoritarian regimes tighten their grip on power through corruption and dirty money. We call on the German government to assume its historical responsibility by putting foreign bribery at the center of the debates during its G7 presidency. While the creation of the Task Force on Russian Elites, Proxies and Oligarchs (REPO) was a welcome first step to bolster multilateral efforts, we need decisive action from the G7 so that targeted sanctions against Russian kleptocrats contribute to accountability. Going forward, the G7 should institutionalize the task force as a permanent body and expand its scope to target kleptocrats around the world.
"Furthermore, the C7 Open Societies Working Group – which we co-lead – also calls on G7 governments to ensure full disclosure of beneficial ownership information and protection for civil society actors fighting against corruption and abuse of power. The C7 personally delivered its demands to Olaf Scholz at the C7 Summit last month. It is his duty to ensure that the G7 resolutely addresses these issues to strengthen a free and functioning civil society as the cornerstone of democracy in the world. »
Note to Editors
See also: