Coastal Carolina Joins Sun Belt Conference, Raising FBS Level in Football | Education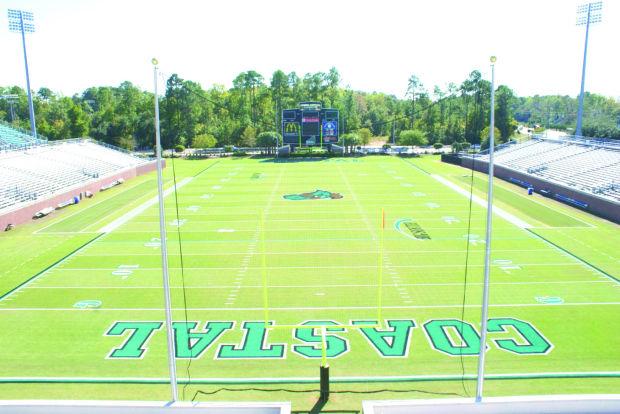 Coastal Carolina has received and accepted an invitation to join the Sun Belt Conference.
CCU President David DeCenzo shared the rumor that the school was in the process of transitioning to FBS official during a press conference Tuesday at the HTC Center.
"This is a historic moment in the life of Coastal Carolina University," said DeCenzo. "I accept the Sun Belt's invitation to become its 12th member. We are delighted and honored that you have chosen us.
Tuesday's announcement ended a quick courtship and wedding that began earlier this summer with Sun Belt officials visiting Coastal and discussing the possibilities. The league chose CCU over Eastern Kentucky.
Sun Belt curator Karl Benson was at the HTC Center for the big announcement.
"When I walked into this campus on June 3, I knew there was something very, very special about this university," Benson said. "When I first met Dr. DeCenzo, I knew he was a special president. Coastal Carolina University has a leader with a vision, dynamic ideas and he gets things done quickly. In less than 60 days, this process evolved very rapidly.
By accepting the invitation, Coastal becomes the newest member of the Sun Belt and gives it the 12 football schools needed to split into two divisions and host a conference championship game.
According to Benson, Coastal will compete in the Eastern Division with Appalachian State, Georgia State, Southern Georgia, Southern Alabama and Troy. The Western Division will include Texas State, Texas Arlington, UL Lafayette, UL Monroe, Arkansas State and Little Rock. "We put on a conference that made sense geographically," Benson said.
All Coastal sports teams except football will join the Sun Belt for the 2016-2017 season. Football would remain in the FCS and the Grand Sud Conference until the year 2017-2018. DeCenzo said Coastal will pay the Deep South an exit fee of $ 100,000.
"With Coastal Carolina having been a founding member over 30 years ago, we will leave with mixed emotions," he said.
Big South Conference Commissioner Kyle Kallander issued a statement following the announcement.
"While the Big South Conference is disappointed with Coastal Carolina's departure, we recognize that limb movement is an integral part of the current environment for Division I athletics," the statement said. "The Deep South has seen relatively few membership changes recently and is confident in its continued stability.
"In fact, this decision illustrates the strength of the Great South and the competitive excellence of its members," the statement continued. "Regardless, the Great South will continue to achieve a high standard by providing exceptional athletic and academic opportunities to all of its student-athletes and by developing leaders through athletics."
CCU Sporting Director Matt Hogue said the CCU football team will likely play the 2016 schedule which has been completed with the exception of a few open dates.
Hogue said the extra time gives Coastal the two years it needs to expand Brooks Stadium to a minimum of 20,000 seats. The stadium currently has a capacity of around 10,000 seats. The Chanticleers averaged around 8,200 fans last season.
Hogue said the school would begin the process of expansion necessary to become a full member of the Sun Belt almost immediately.
Many Coastal Carolina alumni, fans, students and supporters were on hand for the announcement.
"I think it's great," said former board member Robert Rabon. "It just goes to show how quickly Coastal is developing. It still elevates us to the point where we are number three in the state behind Clemson and South Carolina.
Rabon believes Coastal will be able to compete for the Sun Belt Conference championships immediately.
"I think we can compete with them," he said. "All of our sports play in Division 1. I feel very confident."
Horry County Council Chairman Mark Lazarus believes being a Sun Belt member will be good not only for the university but for the entire region given the vast geographic area it encompasses.
"It's exciting," Lazarus said. "It brings a lot of recognition to our community. It will open a lot of doors. Myrtle Beach and Conway will all be nominated.
As a member of the Sun Belt, the CCU football team would become bowl eligible if they won the required six games in a season. The conference currently has several bowling matches. Board chairman Wyatt Henderson said there would be no tuition hike due to the move. He said the move would be good for the school.
"A generation from September 1, 2015 will be remembered as a historic day in the life of this university," he said. "It's a new sporting day. I am proud to be Chanticleer.
Benson is a Boise State graduate and believes Coastal could become the Boise State of the future. He said he immediately thought of BSU when he saw Coastal's teal turf. Benson said the decision to add Coastal was not a football-motivated move.
"Coastal is going to be a great choice," Benson said.
DeCenzo is convinced that Coastal's future is bright.
"I hope that before you leave this earth you will see us at a bowling alley on New Year's Day," he said.