As tech race intensifies, Brussels hints at competition law exception to boost EU-made microchips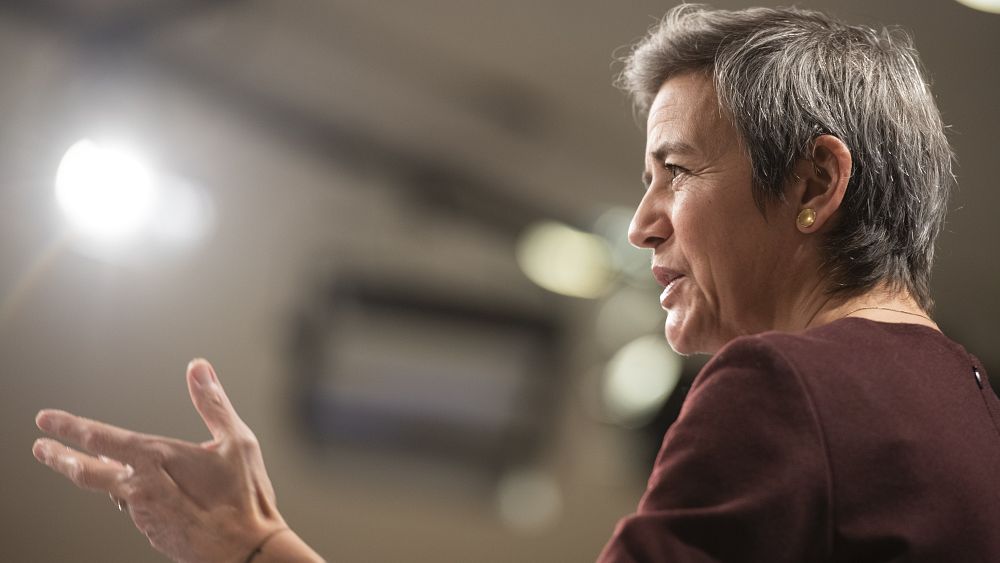 If it is not broke, do not fix it.
That was the main message on Thursday afternoon as the European Commission unveiled its first review of EU competition law, a process aimed at ensuring that rules introduced over 60 years ago can withstand the big challenges of tomorrow.
Since the early years of European integration, the executive has been a zealous advocate of open markets and fair competition across the bloc, while cracking down on unfair and excessive government intervention and the abusive and monopolistic behavior of large corporations. companies.
Competition law enforcement is one of the few policy areas where the Commission has exclusive powers, leaving Member States no choice but to comply with decisions taken in Brussels and refrain from distorting the Free market.
But this long-standing way of working, enshrined in EU treaties, is called into question by China's economic boom, the global technology race and the coronavirus pandemic – three factors that have exposed the weaknesses and Europe's industrial vulnerabilities.
Some capitals are now calling for the relaxation of competition rules to allow the emergence of so-called European champions: powerful multinationals based in the EU that can stand up to industrial titans, mainly those of the United States and the United States. China, and prevent the bloc from lagging behind on the world stage.
These calls gained new momentum in 2019 after EU Competition Commissioner Margrethe Vestager blocked a large-scale merger between the French company Alstom and the German company Siemens which would have created a massive railway multinational.
Vestager argued that the move would have crowded out competitors, curtailed innovation and resulted in higher prices and less choice for European consumers. His decision caused consternation in Paris and Berlin, who hoped the ambitious plan could have strengthened the EU's hand against Beijing. The French Minister of the Economy, Bruno Le Maire, called the decision an "economic error" and a "political error".
"Stuck in the 20th century"
In the face of political pressure, the antitrust tsar held firm. The document that launches the review process broadly defends the EU's consolidated powers and simply hints at targeted adjustments in key areas, including green technologies and microchips.
"Strong competition enforcement is fundamental for businesses and consumers to take full advantage of our Single Market. This gives businesses of all sizes a fair chance to compete," Vestager said in his opening statement.
The Commissioner spoke with pride about the importance and effectiveness of competition rules, which recently won her a legal victory in a case involving a fine of 2.42 billion euros against Google.
She championed the three main tools the executive has to ensure fair play – merger approvals, antitrust investigations and state aid control – and teased two future new instruments: the Digital Markets Act, a legislative proposal to curb the power of large online platforms. , and a law project to examine acquisitions and subsidies made by foreign entities within the European market.
"It won't surprise you if I firmly believe that resilience is based on open and competitive markets," she said, stressing the "adaptive flexibility" inherent in the framework.
His presentation was welcomed by Monique Goyens, Director General of the European Consumers Organization (BEUC), who called on Brussels to be more vigilant on mergers.
"The Commission must continue to resist extremely harsh lobbying by large European companies to weaken merger control in the name of global competitiveness," Goyens said in a statement.
The current review will look at 20 existing rules and guidelines, covering policy areas such as research, agriculture, fisheries, broadband, healthcare and rail transport, to determine if they still are " fit for purpose 'in today's economy or require modifications.
Vestager's safety statements imply that few big changes will be made and that key decades-old principles of EU competition law will remain intact.
For the center-right European People's Party (EPP), the Commission errs on the side of caution and is betting too hard on inadequate and obsolete standards.
"EU competition policy is still stuck in the 20th century. Nowadays, competition policy does not only need to have a European perspective, but a global perspective," wrote German MEP Markus Feber. in the name of his party.
"If we want European companies to be able to compete with their American or Asian competitors, EU competition policy must become smarter by allowing European champions to emerge.
An important task for Vestager and his team will be to find a new balance to ensure that state aid rules allow Member States to accelerate the dual digital and green transition without market distortions.
Brussels estimates this double effort will require 650 billion euros per year of public and private investment until 2030, a colossal amount that will inevitably require a more concrete and generous approach on the part of governments.
Today, around 96% of state aid granted by EU countries is exempt from the vigilance of the Commission. Although small, the remaining fraction that requires approval from Brussels can make a huge difference in practice: when a business or industry receives public support, such as an injection of subsidies or a tax cut, its competitors may be put at a disadvantage.
The Commission only authorizes risky state aid when there are exceptional justifications for economic development. The definition of new exceptions to face new challenges will be an essential part of the review, which comes in the wake of the deployment of the 750 billion euro stimulus fund.
The European potato chip race intensifies
For starters, Vestager has already announced one particular industry where the executive is willing, at least in part, to relax the strict rules: semiconductors.
Microchips have become the most sought-after and vital component for economies wishing to succeed in the ever-fierce global race for technological supremacy. A global shortage caused by the pandemic and supply chain disruptions has turned chips into a rare and valuable item with geopolitical implications.
The market is currently dominated by Taiwan with near-monopoly comfort, followed by other Asian rivals, such as South Korea, China and Singapore. The United States and the EU each have barely 10% of the market share, an embarrassing figure for the bloc, which held more than 40% in the 1990s. The Commission has now set itself the goal of conquering 20% of the market by 2030.
But chipmaking is a very complex and expensive business involving a painstakingly precise production line. The cost of building a new semiconductor manufacturing plant (called "fabs") from scratch can range from $ 4 billion to over $ 10 billion.
These intimidating factors set up high barriers that businesses struggle to overcome on their own. To tear down these walls, Brussels is developing a European flea law designed to stimulate domestic production and bring fresh public money to the sector.
"The Commission will consider approving support to close possible funding gaps in the semiconductor ecosystem, in particular for cutting-edge European installations," Vestager explained, adding that the benefits of this state aid extraordinary needs to be shared across the EU economy. .
The concentrated push to finance cutting-edge technologies like microchips, batteries and cloud computing with European and national funds comes as political discussion focuses on the goal of strategic autonomy, a loosely defined concept. which postulates that the bloc must become more self-sufficient, sovereign and independent.
The idea, born within the walls of the Élysée, touches on various fields, including technology (the race for semiconductors), industry (calls for European champions), energy (local renewable resources as opposed to imported fossil fuels), defense (proposals for a genuine European Defense Union) and diplomacy (a politically assertive EU freed from America's shadow).
But as supporters of strategic autonomy have grown, so have critics. Margrethe Vestager, who hails from a Danish liberal party, has never been seen as a big fan of the idea and often calls it 'open strategic autonomy', thus emphasizing the character of the EU as a market. free.
Across the table, Thierry Breton, former CEO of Atos and current Internal Market Commissioner, regularly pleads for the EU to become more autonomous and reduce external dependencies.
"The time has come for Europe to be able to use its influence to defend its worldview and defend its own interests," said Breton, who was appointed to this post by President Macron, said last year.
Vestager, who works closely with Breton on digital matters, surpasses him as executive vice president. The revision of competition law, with its unmistakably pro-market approach, marks a victory for its liberal thinking, also favored by countries like the Netherlands, Finland and Sweden, and a defeat of the interventionist camp, embodied by France and, more recently, Germany.
"Self-sufficiency is an illusion," said Vestager, of semiconductors.
"When you think about the scale of the needs, it's clear that no country or company can do it alone. But neither can we rely on a single country or a single company. "